About Your Trusted Bradenton Shutter and Blind Company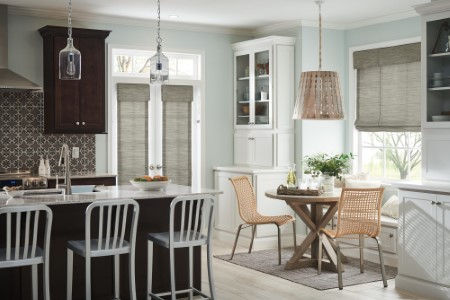 At World of Blinds and Shutters, we are a husband-and-wife team leading a cutting edge company offering exceptional products at prices significantly lower than many of our competitors. Our advantages are simple really; we are mobile, which means we don't have a traditional brick-and-mortar office space requiring rent, insurance, employees, and all the traditional expenses that our competitors incur. How does that benefit you? Our lower operating costs results in lower blind prices and those cost savings are passed on directly to you!
Our Unique Shutter Company Saves Your Money
We began offering our unique shop-at-home, lower-pricing model in early 2000 and have grown exponentially since. We currently have over 30 different vendors, manufacturers, factories, distributors and wholesalers at our disposal. This allows us to use different manufacturers for different types of window treatments. The result? Lower prices, quicker delivery times, faster installations, you get the picture. You get the absolute best price on each type of window treatment. That pricing is guaranteed, too, and we secret-shop our competition on a regular basis. So we know we have lower prices than our competitors.
Our Bradenton Shutter Company Has the Experience, Knowledge, and Skill You Need
Over the years, we have grown in sales, but not in size. We are still a small operation, giving you 100% of our time and attention. And we're with you throughout the entire process. We come to your home and professionally measure your windows and provide you with an overview of all the treatments that are available to you. Don't quite know what you want? That's OK. Laurie has a background in design and is well-versed in all aspects of fashion and function and can point you in the right direction. Based on what's in your home, or in the case of new home construction, your desires, she'll make recommendations taking into account many, many factors. You'll end up with just the right touch for your window treatments. Once you've made your final decision on the kinds of treatments you want, we give you a very fair and very competitive price.
We Install Your Window Treatments For You
Should we be fortunate enough to earn your business, we order all the treatments right away. We don't wait for other orders or just place orders once a week. We place orders 7 days a week. Once your blinds and shades are received and inspected, we contact you immediately to schedule the installation. The same people who sold to you will now install for you. Laurie and I do our own installations and you'll see us from beginning to end and at all steps in between. We'll remove your old treatments and professionally install your new treatments and clean up after we're done. Except for your new treatments, you'll never know we were there!
Our Products Have Amazing Warranties
Everything we sell is warranted for as long as you own your home. If there's ever a problem with anything we've sold you, it'll be repaired or replaced, whatever the manufacturer decides. But the best part is that it'll be the same two people who sold and installed your treatments. Yep, the same people. We think it's best that we take care of you from start to finish.
Our Shutter Company is Dedicated Completely to Customer Service
We look foward to working with you in this venture. We promise to take care of you and we promise to look out for your best interests. We know that sounds strange, but we're old-fashioned that way. We honestly care more about your referrals than your money!
Give Us a Call Today for Custom Window Treatments in Bradenton & the Surrounding Areas