Lakewood Ranch, FL Blinds and Shutters Experts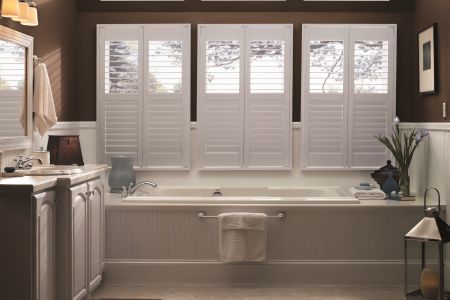 Looking for a Lakewood Ranch blinds and shutters company and not sure where to turn? Well, you've come to the right place because we believe in going above and beyond to take care of our customers.
Since 2000. Our team at World of Blinds and Shutters has been dedicated to providing locals with the level of quality that they want, need, and deserve. Your final results are only as good as the products used and the workmanship invested into the project.
Of course, superior customer service added to that certainly doesn't hurt. This is all part of our commitment to excellence, something we strive for and deliver each day as a local leading Lakewood Ranch blinds and shutters company.
Choosing Window Blinds for Your Lakewood Ranch Home
There are a number of reasons people prefer window blinds and why they're so popular with residential homeowners in the Lakewood Ranch area. You have two main options when it comes to window blinds: real wood blinds and faux wood blinds.
Many homeowners prefer real wood because there really is no better look. Real wood grain means each individual slat is one-of-a-kind; what you get is truly unique. This gets lost when you opt for faux wood.
On the other hand, faux wood blinds are more cost-effective. You'll be able to stretch your budget much farther by using this alternative to real wood.
Real wood increases the property value of your home. That makes wood blinds a good long-term investment when it comes to which type of window treatments you opt for.
However, faux wood is suitable in spaces where real wood isn't, the kitchen and bathroom, for instance. Real wood is easily susceptible to damage from moisture, especially humid conditions. This is why it makes more sense to use faux wood instead of risking damage to the real thing.
Real wood requires more care and maintenance, however many people feel it's well worth the upkeep. With faux wood, you usually don't have to do much more than wipe them clean.
Getting Started
The best way to get the results that you want for your window treatments is to find the perfect Lakewood Ranch blinds and shutters company to work with – so give us a call. We take great pride in all the work we do and with every customer we partner with.
Your window blinds, shades, and shutters are all a part of putting finishing touches on your home. These are the details that transform your current house into the home of your dreams, and we look forward to being a part of designing and installing them for you.
Reviews and Testimonials for World of Blinds and Shutters in Lakewood Ranch
Steve Hayes came to our condo, measured our windows and we ordered blackout blinds for this particular room. Not only did he give us a great price comparatively that day, we were able to also schedule the install date. Install was done and we love our rooms new addition. Please consider calling these folks the next time you need window treatments. I will be sharing my experience with all of my new neighbors in Lakewood Ranch. 👏🏻
Cindy B. | Lakewood Ranch
Steve and Laura of World of Blinds (WOB) does an OUTSTANDING job and is very fair in their pricing. They installed Plantation Shutters in all windows, Hunter Douglas Sliding Vertical Blinds and Custom Drapes in our house. WOB quality of work and quality of products is exceptional. Lastly they warranty their products and service you after the sale!
Give Us a Call Today for Custom Window Treatments in Bradenton & the Surrounding Areas