Functional and Stylish Bradenton Shutters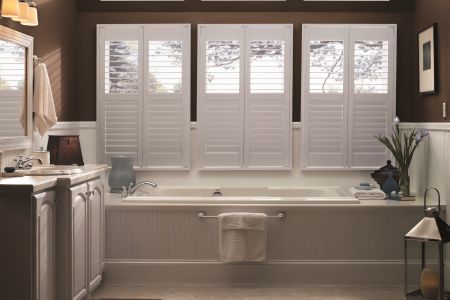 One of the best but often overlooked aspects of your home is its window treatments. These features provide you with many benefits. They give your family privacy, improve the aesthetics of your living spaces, and enhance the performance of your Bradenton home. Window treatments, especially wood and wood composite shutters, are an extremely cost-effective way to improve the look and feel of your residence.
At World of Blinds and Shutters, our professional shutter experts can help you with all of your window treatment related needs. With our assistance, you are guaranteed to select the shutters that most benefit you and your family. We can install your new shutters for you. In the end, our team will do everything to ensure that you and your Bradenton family love the new look of your shutters.
Call World of Blinds and Shutters today if you are looking for a shutter and blind company in Bradenton. Our courteous staff is here to help you in any way that we can. Our shutter experts would be happy to answer any questions that you may have about these beautiful window treatments or our expertly performed services. Our team would be excited to schedule your appointment today.
Wood Shutters and Wood Composite Shutters in Bradenton
If you are interested in installing shutters on your Bradenton home, you should definitely consider installing either wood or wood composite shutters. These shutter materials provide a number of amazing benefits. First, they are extremely elegant and beautiful. Wood and wood composite shutters can complement any interior and exterior decorating scheme.
Second, wood and wood composite shutters are highly durable and low maintenance. Cleaning and upkeep are extremely easy with these shutter systems. You and your family are guaranteed to love the look of your new shutters and will not have to worry about them being difficult to maintain. With these two inherent qualities, your new wood or wood composite shutters are guaranteed to leave you and your family completely satisfied.
Interior or Exterior Shutters in Bradenton
At World of Blinds and Shutters, our shutter design experts provide the widest array of high quality wood shutter systems to the Bradenton area. When you hire us for a window treatment installation project, you can rest assured knowing that you made the right choice for you and your family.
Our shutter professionals will provide you with a wide range of interior and exterior shutter designs. You and your family can then choose the style and appearance that best suits your tastes. Our experts can then install these shutters for you in the most expert fashion guaranteeing that your project will be a resounding success.
Give Us a Call Today for Custom Window Treatments in Bradenton & the Surrounding Areas