3 Excellent Benefits of Woven Wood Shades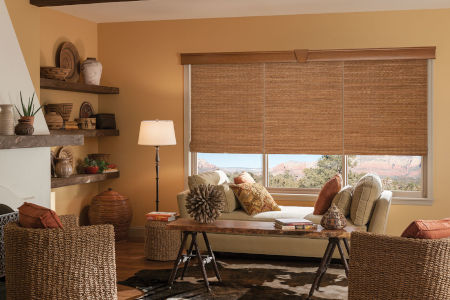 If you have ever had to go on the hunt for new window treatments for your home, you understand just how overwhelming the process can be. Window treatments come in a wide variety of different styles, designs, and materials, and knowing which ones are the right choice for your home can be difficult even at the best of times. With that being said, if you are one of the many homeowners out there who are in the market for new window treatments for your home, and you have never considered all of the potential benefits that woven wood shades have to offer, now is the time to do so. To help you in that effort, our team of professional Bradenton window treatment professionals has taken the time to put together this short list going over several of those benefits and what they can mean for your home, as well as you and your family. We invite you to take a quick read through this short list and give our team of professionals a call today to schedule your consultation.
Add Texture & Warmth To Your Home
There is just something inherently beautiful and comforting about the look and feel of natural wood, and with brand new woven wood shades, you can inject that feeling right into your home's interior design. Whether you are trying to create a more traditional look inside your home, or you are going for something a bit more modern, woven wood shades are an excellent neutral design choice that can go with just about anything. Additionally, because of their neutral design, they are a fairly timeless window treatment option that never really goes out of style, which means that you won't have to worry about having to replace them in a couple of years' time when you go to sell your home.
Light & Bright
If you are like most homeowners, you enjoy a bit of natural light in your home, but you might not care for the heat build-up that comes with it all the time. Woven wood shades are able to solve this dilemma in ways that most other types of window treatments just can't. While shutters and blinds are quite effective at helping to reduce the build-up of heat inside your home from the sun's UV rays, they also block out the natural light coming into your home in the process. With woven wood shades, however, you get the best of both worlds. Because of their design, woven wood shades are able to filter most of the UV rays out of the light coming through your windows into your home, helping to reduce the build-up of heat while still leaving you with a comfortable, pleasing glow for the interior of your home.
Eco-Friendly
Because they are constructed from natural materials, woven wood shades make an excellent window treatment option for any homeowners who are looking for a more eco-friendly option for their homes. With woven wood shades, you can get that beautiful aesthetic that you've wanted for the interior of your home, and have peace of mind in knowing that you are doing your part to help preserve the environment by investing in natural, sustainable products and materials for your home.
Give Us a Call Today for Custom Window Treatments in Bradenton & the Surrounding Areas